Northeast Biomass Conference & Expo tours feature district heating, pelletizing
The New England Wood Pellet plant in Jaffrey, N.H., is ringed by trees and sits on a lot piled high with bags of wood pellets, ready for sale to the company's residential customer base.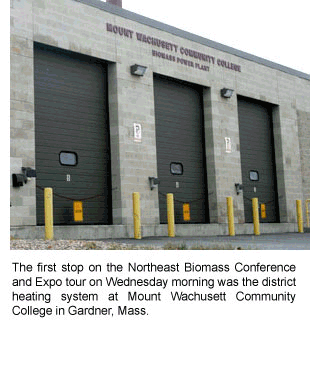 The site was one of two tour locations during
Biomass Magazine
's Northeast Biomass Conference & Expo Aug. 4-6 in Boston. Nearly 40 tour participants were able to observe facility operations and witness how pellets are manufactured. The company has been making pellets for 19 years, according to Steve Walker, president and CEO, and designs and manufacturers much of its own equipment.
Participants saw trucks dumping the raw wood onto massive piles of sawdust, wood chips, and hunks of other wood. The supply, 20 percent soft wood and the rest hard wood, comes from forestry, sawmills, chipping contractors and secondary manufacturers that make products such as furniture.
Some of the raw wood needs to be dried, so before being pelletized, it is fed into a screener that takes out the big chunks, as well as the fine ones because those can blow up and cause fires more easily, Walker said. Then, the wood pieces are pulverized to the size of a toothpick and dumped into a silo before finally being fed into the large, cylindrical, rotating dryer, which is powered by the woody biomass. "This is exactly the same as a clothes dryer," Walker joked, looking at the massive machinery. "A little bigger." The residence time for the wood in the dryer is between 1.5 and 2 minutes, he added.
The dried wood, along with the wood that was dry enough to skip the drying process, is put in silos where it waits to be pelletized at temperatures up to 256 degrees Fahrenheit, Walker explained, picking up cooled pellets and passing them around. "They're pretty uncomfortable right when they first come out," he said.
The pellets are poured into bags on a conveyor belt, piled on pallets, wrapped in plastic and stored on-site at the facility. The residential customer base is large, Walker said, but does fluctuate depending on oil prices. "The market here in the northeast has grown, but not nearly as fast as Europe," he said. There's an enormous overcapacity in the Northeast, he said and the market is much smaller than popularly perceived. "What we have to focus on is the customer," he said.
Tour guests were also granted a tour of the company's research and development facility, which it uses to design its own equipment, and research new designs.
Mount Wachusett Community College in northern Massachusetts was the other tour destination, a previously all-electric heated facility that now houses a state-of-the-art hydronic biomass-fired district heating system.
Powered by a Messersmith wood chip combustion boiler, the biomass system heats the college's entire campus, some 500,000 square feet of classrooms, libraries and laboratories, and has saved MWCC $300,000 in annual fuel costs since it was installed in 2002.
MWCC Director of Maintenance and Mechanical Systems Bill Swift said three to five truckloads of hardwood wood chips are hauled to the plant per week to fuel the district energy system. Though mill wood chips-which Swift described as unusable slabs of wood cut from the sides of a debarked logs-are a more desirable fuel due to its consistency, the plant currently uses mostly chips derived from wood typically destined to be utilized as firewood, he said. "Since many sawmills have been closed in the state as a result of the lagging economy, mill chips aren't available to us."
Last year, the school paid about $54 per ton for mill chips and $58 per ton for the firewood chips, requiring about 1,400 tons of wood chips annually. Swift said he expected to pay the same figures next year, though he admitted concerns of eventual supply issues if multiple proposed projects in the state proceed, and if the economy does not improve.
When asked for advice to give those planning to install a similar biomass heating system, Swift had four tips to offer-don't run wires underneath the boiler, marry baghouse controls to boiler controls, find a very good controls company, and size the wood chip bin one-third bigger than originally thought to be needed.