Conference plenary session addresses Manomet study
Biomass has made up 50 percent of the renewable energy in Massachusetts' renewable energy portfolio (RPS), according to Tom Walker, consultant for the Manomet Center for Conservation Sciences, but with the release of the Manomet study, "Massachusetts Biomass Sustainability and Carbon Policy Study," in June, woody biomass is under fire.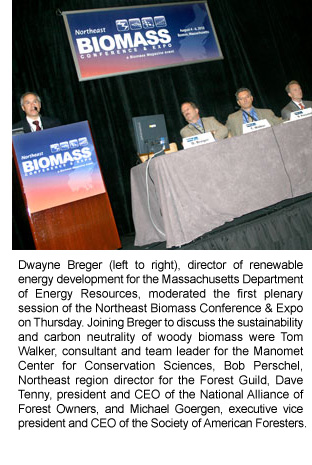 Walker was one of five speakers on the first plenary session panel at Biomass Magazine's Northeast Biomass Conference & Expo Aug. 4-6 in Boston, Mass. Massachusetts' RPS is one of the leading in the nation, at 15 percent by 2020, and has been a great success, Walker said. He discussed the study results, methodology and implications for the state, emphasizing more than once that the results are not translational to other states, and all regions looking into biomass utilization for bioenergy should conduct their own studies.
Through a competitive solicitation, the Massachusetts Department of Energy Resources chose Manomet to conduct the study, determining forest biomass's impacts on greenhouse gases, forest and forest ecologies and sustainability. The study found a debt-then-dividend model where forest biomass releases more carbon dioxide than fossil fuels initially, but that debt is paid off as the forests re-grow, with growth rates depending on a number of other factors such as forest management. The feedstock taken into account in the study was strictly forest-derived, including logging residues, but not mill residues, tree and landscaping clearing, construction debris or other wastes. That has been one of a few points of contention in the biomass industry, as most plants would use such wastes.
"I will say that the DOER and Executive Office of Energy and Environmental Affairs were very pleased with the sound technology, but we recognize its limits," said panel moderator Dwayne Breger, director of renewable and alternative energy development for DOER, citing the feedstock concerns and reiterating again that the study findings are specific to Massachusetts.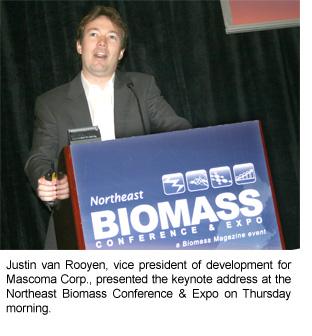 "I think there's been a lot of controversy in the press as far as how far-reaching our results are," Walker said. During the six-month study, the researchers, which included representatives from other agencies such as the Pinchot Institute and the Forest Guild, developed an integrated energy system forestry model with a baseline scenario of forest operations in Massachusetts similar to that in the recent past. "A key element that we've done is to explicitly take this business-as-usual scenario," he said. Forest biomass will be carbon neural if the forests grow back and people don't question that, Walker said. The question is when and what factors could affect it.
"As you can see, carbon neutrality is not instantaneous," Walker said, showing a powerpoint slide with a chart of carbon dividend timelines of fossil fuels as compared with woody biomass. Dividends with replacement of coal-fired electric capacity begin at about 20 years, the study found. When biomass is replacing natural gas capacity, the carbon debt is still not paid off after 90 years. When using logging residues only, however, the debt is paid off much sooner. "For waste material, carbon recovery can be relatively rapid regardless of harvest or technology assumptions," he said, adding that when live trees are harvested, carbon recovery profiles are longer.
The DOER will use the study to refine its RPS regulations, and biomass energy has been suspended from inclusion, pending the results of the study. The EEA has requested new final rules be put in place by the end of this year.
Broader policy implications of the study include the fact that the baselines will be different in different regions; different sources of biomass have different greenhouse gas profiles; biomass technology choices matter toward recovery times; and forest management can either accelerate or decelerate carbon recovery.
But current emissions targets are more short-term focused and don't account for biogenic sources with payback periods, according to panelist Bob Perschel, northeast regional director of the Forest Guild and study contributor. "This is going to be a huge problem with the public," he said.
Opposition has cropped up all over the country and some groups have taken the Manomet study results as confirmation of their viewpoints. Forest depletion is one of their concerns, but panelist Michael Goergen, executive vice president and CEO of the Society of American Foresters, told the crowd of about 290 attendees that the country has about the same amount of forests that it did 100 years ago. "We've maintained the same amount of forest despite an increase in population from 87 million to more than 300 million," he said, attributing that fact to certification, best management practices and other forestry maintenance factors. The U.S. currently has about 755 million acres of forestland.
Positive attributes of biomass include improving utilization and thus profitability and management options. "Robust markets are a very, very important part of maintaining those forests," Goergen said. The use of small-diameter material could replace some diminishing markets, maintaining healthy forests for longer rotations, he added. On the downside, though, high utilization of forest biomass could limit variability of habitats, although Goergen said he doesn't know if that would happen for sure.
Sustainability of forest biomass utilization depends on a number of factors including best management practices, habitat, site preparation and markets. "Markets keep forests forested," he said. "Biomass has the potential to keep these lands the way we want them."
Fellow panelist Dave Tenny, president and CEO of the National Alliance of Forest Owners, reiterated that point, saying viable markets are fundamental to forest conservation. Tenny shared a 2007 quote from the U.S. EPA that says carbon dioxide from biomass will not increase carbon dioxide in the air if it's done sustainably. Now, though, the EPA is leaning toward regulating biomass emissions like those of fossil fuels in its proposed Tailoring Rule. The result of that regulation would be uncertainty in the marketplace, he said. "You end up with regulation of the value chain in a way that it's never been regulated." In addition and also in disagreement with the 2007 EPA statement, the federal renewable fuels standard restricts the utilization of 90 percent of U.S. forests.
"We are at a precipice in our country," Tenny said. "We're trying to decide as a country whether we're serious about renewable energy." In order for that portfolio to include biomass energy, the industry needs clear signals for investments to flow. "Right now, those signals are pretty muddy," he said.
In the discussion portion of the panel, Perschel made note of the fact that none of the other panelists challenged the figures in the Manomet study. He did, however, lay out some issues that need to be considered, including a hard definition of carbon neutrality. "Those protesters are saying we found that biomass is not carbon neutral, but we're up here saying it is," he said. Other issues he outlined include biomass's impact on RPS targets; its affect on climate events; and if it gives investors the best bang for their buck in comparison to other renewable sources.
Goergen raised an important concern near the end of the discussion that directly relates to the biomass opposition all over the country. "Are we really serious about renewable energy?" he questioned. "Every time I hear a project proposed, I hear a group that says, 'Absolutely not.' But I hear that same group say we need to do something about climate change." He added that the country might not have the backbone to make the important decisions in policy and other areas.
"There's a lot of talk but do we really have the will?" he asked, adding that he's concerned the country isn't willing to start the intensive forest management required to efficiently and sustainably use forest biomass as an energy source. "I hope I'm wrong," he said.