Industrial heat and power track addresses NE projects, export markets
Posted August 5, 2010, at 7:39 p.m. CST
A panel that outlined existing and proposed biomass projects in the Northeast drew the largest crowd of all four concurrent panels in its Thursday afternoon time slot at
Biomass Magazine's
Northeast Biomass Conference & Expo in Boston. Almost 60 people listened to four panelists discuss their biomass endeavors, including the proposed conversion to woody biomass of a mill complex in Biddeford, Maine.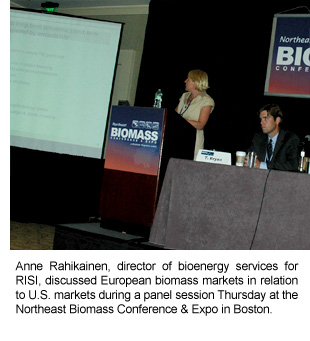 "This project can create low-cost heat, low-cost electricity and work," said speaker William Strauss, president and founder of FutureMetrics. The 24-building complex, built in the 1930s, has existing steam distribution systems and sits next to a refuse-derived-fuel-to-energy facility that is also discussing a switch to wood fuel with FutureMetrics. "The inside of these buildings are pristine and large," Strauss said of the mill complex.
The panel, From Drawing Board to Deployment: Real World Biomass Projects in the Northeast was part of the Industrial Heat and Power track, which included seven speakers on two panels.
Eric Epner also discussed his real world biomass project, a greenhouse that generates energy with wood chips. "This has been operating for a full year and has real numbers behind it to demonstrate its success," he told attendees. The commercial greenhouse spans 18 acres, and the switch was made after the search for a less expensive fuel was conducted after oil prices rose.
After one year of operating and 7,600 tons of wood chips burned, Epner said the project has seen numerous positive results: the boiler has performed extremely well; the final cost was $3.7 million; the equipment and facility easily passed air permitting testing; the greenhouse realized a savings of $1.5 million; the facility saw a carbon dioxide emissions reduction of 6,000 metric tons; and the simple payback including incentives is expected to take only 2.5 years. Major challenges of the conversion included fuel sourcing, funding, equipment selection and permitting, Epner said.
During the next panel in the same track, Export Markets and Their Influence on Northeast Biomass Supply Streams, Tom Corle, director of marketing for Inbicon, discussed his company's cellulosic ethanol plant in Kalundborg, Denmark, the first commercial plant of its kind. "I'm here to open up conversations," he said, adding that Denmark has excellent potential as an importer. The plant uses wheat straw pellets, which Corle said allow 10 percent higher efficiency than simply burning the biomass. Corle had spent two weeks prior to the conference in Washington, D.C., attempting to convince legislators of the importance of biomass and what he calls "the new ethanol."
During the same panel, Anne Rahikainen, director of bioenergy services for RISI, discussed European biomass markets in relation to the U.S.'s, saying the key driver in Europe is policies that spur investment. "At current prices, economies alone would not support investment in biomass," she said. "It's the policies that drive things and not necessarily the economies."
The EU has a renewable goal of 20 percent by 2020 and member nations also have their own targets, Rahikainen said. Those countries also have to develop national action plans to reach those goals. She and fellow panelist Pete Stewart, president and CEO of Forest2Market, mentioned the high biomass demand in the U.K. Stewart told the crowd that, to meet its goal of 20 percent renewables by 2020, the U.K. will need to import 12 million tons of pellets per year. If one-third of that were to come from the Eastern U.S., about 18 more pellet plants would be needed, he said.