Conference panel focuses on project finance
Posted August 5, 2010, at 8:47 p.m. CST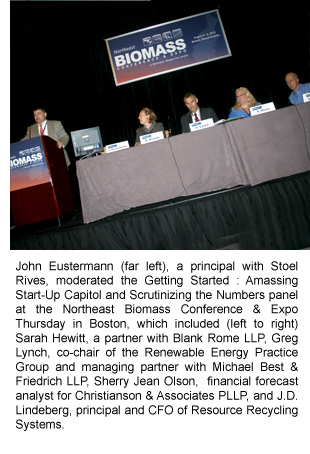 When it comes to building a biomass plant, whether that plant is going to produce fuel, chemicals or power, being able to secure a reliable affordable fuel supply could be the key to securing funding. That was one of the issues discussed Thursday during the Getting Started: Amassing Start-Up Capitol and Scrutinizing the Numbers panel at the Northeast Biomass Conference & Expo in Boston.
J.D. Lindeberg, principal and chief financial officer of Resource Recycling Systems, said his firm does a lot of work analyzing the fuel supply for the development of primarily woody biomass facilities but also other kinds of facilities such as pellet plants.
Lindeberg explained how the firm does its work and why it's important to the project financing process, while providing some interesting insights into the biomass market.
There are three legs of the stool if you want to build a biomass plant: power purchase agreement, engineering to build or convert a plant, and the fuel supply, he said. "My own personal view is … that fuel supply is the most important thing." In that supply chain there are five basic steps that have to be priced out: production, processing, loading, transport and reclaim.
"One way or another, if you are building a biomass-fueled power plant and you are going to go get money from somebody other than your friends and family, you are going to need to have to tell a story," he said. "You need to recognize that bankers are risk averse and they want to make absolutely sure they are not going to lose their shirts. They are going to want a very thorough exposition and analysis of all of the major risk factors. Are there technology problems? Are there supply problems? You need to be able to evaluate that over the course of the debt, which is most likely 20 years. You need to be able to evaluate what you think is going to happen in the future based on what you're seeing right now."
Developers also need to remember that even though they paying a consultant to analyze the biomass supply, that consultant actually works for the bank. "The bank is the one who has to have the questions answered, and they have to have their name at the top of report because otherwise the fuel supply exercise becomes something that is too tainted by the developer's opinion and outcome."
Lindeberg said he gets asked a lot if he can project biomass prices and that his firm recently found a relationship between the price of woody biomass and the price of diesel. "It turns out that the relationship to the price of fuel is related very closely to the diesel price and fundamentally about 75 percent of the overall cost of fuel is related to diesel itself," he said. "The good news is that the EIA (Energy Information Administration) projects diesel costs out over 25 years. … Once you have a starting point for the diesel price you can project out what you think is going to happen."
Lindeberg was joined by Sarah Hewitt, a partner with Blank Rome LLP, who discussed state and federal incentives, grants and other funding opportunities for biomass project developers.
"As everybody knows developers looking to build or rehab a biomass plant rely heavily on incentives, and there have been many of them since the stimulus bill was passed in 2009; there were some in place before then and there's a whole panoply of things to choose from," she said. "There are grants. There are guarantees. There are bonds. There are tax incentives and other programs at the federal level, and similar things at the state level."
Another incentive program being offered by the USDA is the Biomass Crop Assistance Program, which panelist Greg Lynch, co-chair of the Renewable Energy Practice Group and managing partner with Michael Best & Friedrich LLP, discussed in his presentation. "This program has enormous potential because it is directly targeted at expanding the supply of biomass for renewable energy," he said. Although the program was halted in February until new rules are established, Lynch hopes the new and improved program will be rolled out this fall.
The conference panel was moderated by John Eustermann, a principal with Stoel Rives, who provided his insight into project finance as well. "I think it goes without saying that right now debt markets are tight and people are sitting on cash, but projects are being done."