Heating Fuel Woes
Yesterday, I was on the phone with my mother, who lives about 250 miles away from me, roughly 95 miles from the Canadian border, right along North Dakota's eastern border to Minnesota.
She was lamenting the current cost of propane, which, if you're a northerner, you likely already know it has quickly rocketed to over $3 per gallon more than it was six months ago. It's about $4.50 per gallon in North Dakota, and in some locations in Minnesota and Wisconsin, it's over $5 per gallon.
Why? Well, because of the ridiculously cold weather we've endured this winter (blizzard after blizzard, the ghastly polar vortex, temporary shutdown of major supply pipeline Chochin late last year, and heavy use of propane by farmers last fall). The shortage—well, experts are saying it's not necessarily a shortage, but rather it just isn't the right places—is mainly affecting Midwestern states. Check out this chart from the U.S. Energy Information Administration: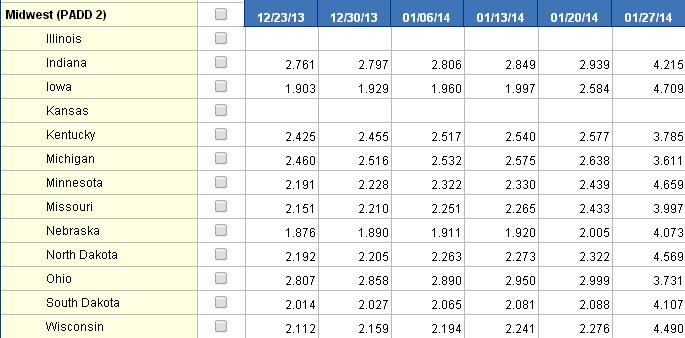 Other parts of the country, such as the Northeast, are facing their own heating fuel woes. As Biomass Magazine columnist and BTEC executive vice president Joseph Seymour points out in next month's column, in Maine, the state's energy office reported that in January, heating oil prices were up 4 percent and propane prices up were up 23 percent, compared to the same period in 2013.
But guess what? That's not the case for wood pellets and cordwood, the prices of which have remained much more stable. Here's a snapshot from the New Hampshire Office of Energy and Planning, comparing heating fuel prices:

Wood pellets are running $25.50 cheaper per MMBtu than propane and $13.71 cheaper per MMBtu than heating oil.
Cord wood is running $25.07 cheaper per MMBtu than propane and $13.27 cheaper per MMBtu than heating oil.
In this day and age, for many families, living paycheck to paycheck is a reality. People have set budgets. When the price to heat their homes suddenly spikes, it leaves many in difficult situations.
Presumably, most don't have readily available cash to spend on a new wood stove, pellet stove or boiler system either.
For the past couple of years, the federal government has provided a $300 biomass heating appliance tax credit, but to my knowledge, it has not been renewed for 2014.
What I would love to see is more states put forth programs like Maine and New Hampshire have done, which help homeowners make the switch by providing rebates or grants (how about that $1.6 billion dollar surplus, N.D?).
Hopefully in the coming weeks, we'll get a break from this miserably cold weather.
Stay warm!