From Concept to Solution: Developing Innovate Technologies to Access Underutilized Feedstocks
In the two previous DataPoints blogs, I highlighted the need and difficulty of accessing underutilized feedstock, like forest residue left by loggers once the high value timber has been removed. I argued that the current method of burning slash piles from forestry operations simply sends a potential bioenergy feedstock and any profit up in smoke. Loggers often do not possess the appropriate equipment and are too busy falling trees and getting them out of the forest to address forest residue in an efficient and cost effective manner. In speaking with a forest manager from a million plus-acre forest management firm this week, I posed him the question, "why not harvest the slash pile for energy?" He responded by saying that the pressure point on accessing forest residue is simply the cost of fuel. With currently available technologies, diesel prices incur too great of a financial risk to expend capital to remove and process forest residue into biomass fuel. In order for the bioenergy industry to access greater quantities of forest residue and grow as an industry in areas where feedstock is available and underutilized, efficient technologies and cost effective methods of harvesting and processing are needed. This week's DataPoints highlights a company that is developing harvest and process technologies that reduces cost, saves energy, and provides versatility of the ultimate feedstock.
I recently took a short field-trip to check out Forest Concepts and see how their R&D operation is addressing technical drawbacks to a streamlined bioenergy supply chain. Michael Perry, CEO, and James Dooley, CTO, led me on the tour and explained how their R&D work strives to simplify supply chain logistics, reduce costs (financial and energetic), and improve feedstock uniformity for conversion into bioenergy products.
Our first stop on the tour looked at their solution to accessing the forest residue that often ends up in slash piles. The Bighorn Biomass Baler™ (shown below) takes slash and builds compact bales for easy transport out of the forest.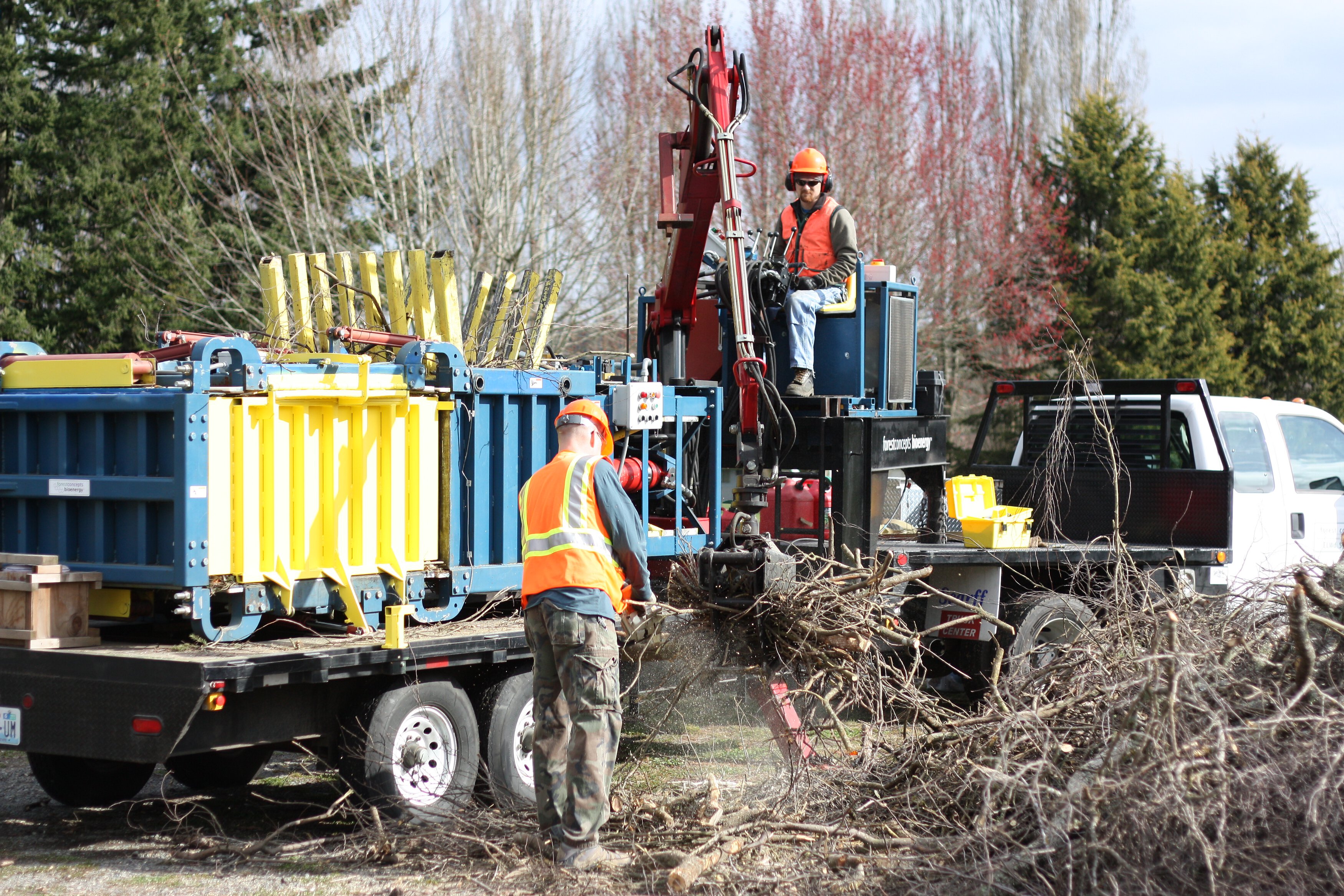 A common method of removing forest residue is to chip the residue at the logging site, but this often proves ineffective because of the inefficiencies and high cost of operating mobile chippers. Furthermore, chipping onto the forest floor often invites greater soil contamination, which bioenergy plant operators prefer keeping out of their plants. By baling forest residue at the logging site, less fuel is spent than would be by chipper and contamination can be better controlled. The dense bales of residue are able to be transported to a processing plant where electrically driven processing equipment can efficiently process the bales in a more cost effective manner than a mobile chipper. The Bighorn Baler allows a more efficient and economically prudent method of densifying forest residue into an easily transportable bale. John Sessions at Oregon State University has ongoing research that demonstrates the cost effectiveness of Forest Concept's residue baler.
Forest Concept's innovative thinking and work does not end at harvest. The uniformity of feedstock is an important issue to bioenergy producers, and Mr. Perry and Mr. Dooley have taken this matter head-on. Whether operating a biorefinery or a pellet plant, a uniform particle size of the feedstock is vital to the ultimate conversion efficiency in the biomass-to-energy transformation. Forest Concepts developed the Cumbler™ to satisfy an array of bioenergy customers and deliver a highly uniform feedstock at a minimal energy cost. Hammermills are the most widely used technology across the sector to create a uniform feedstock, but they have drawbacks that the Crumbler addresses. Hammermills require a dry feedstock because they operate on the friability of the biomass to create a small particle size. The photo below shows the Crumbler in action on corn stover.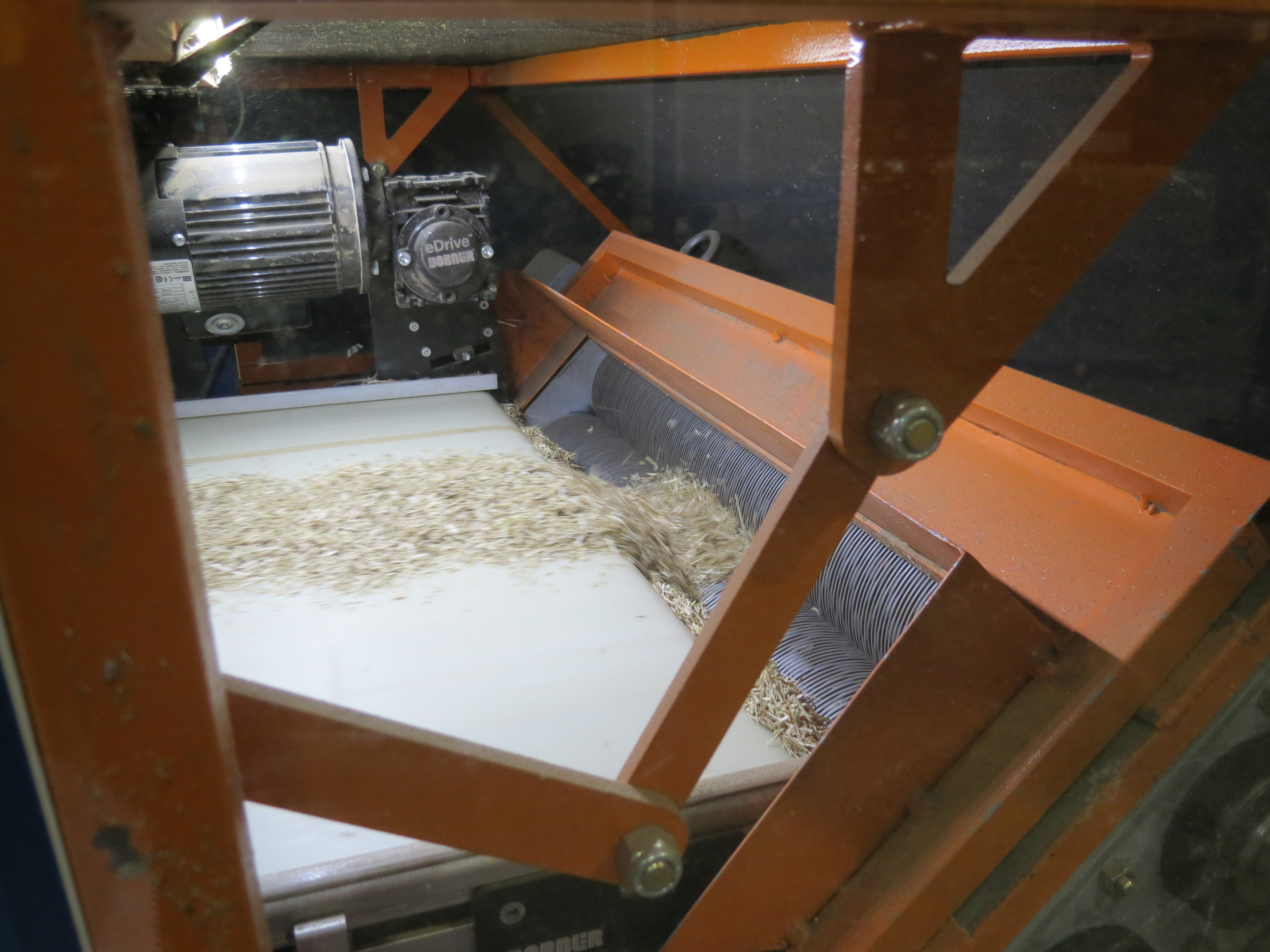 The Crumbler is able to handle the entire spectrum of moisture contents that biomass can possess and do so with considerably less energy than a hammer mill. The Crumbler also produces significantly less dust, and with fire at bioenergy plants a growing concern in the industry, the Crumbler alleviates dust mitigation concerns. Mr. Dooley did acknowledge that a Crumbler would be more expensive than a hammer mill of an equivalent size, but the energy savings and lack of dust abatement equipment would quickly make the Crumbler a cost effective decision.
From my arrival to the time that I left Forest Concepts, I was absorbed by Mr. Dooley and Mr. Perry's drive to reach practical solutions to the inefficiencies and bottleneck throughout bioenergy supply chains. At conferences and directly from producers across the industry, I hear time after time that the availability of feedstock is the limiting factor in plant expansion. In order for the industry to grow, there must be greater access to feedstocks that current available technologies make too costly to attain. Properly supplied with feedstock, this industry has considerable room to grow. I commend Forest Concepts for their R&D work on scalable solutions, and I would like to thank them for sharing their vision.